Child Centric Culture:
"Either we spend time meeting children's emotional needs by filling their
cup with love or we spend time dealing with the behaviors caused from
their unmet needs. Either way we spend time with our students."
Pam Leo
Innovative ideas and programs like-  3C Practice, HEAR Philosophy, Robotics & STEM, Goodness Bank, Peer Mentoring & Minutes of Mindfulness are designed to create experiential learning and cater to the skills required by learners to develop as balanced & enriched students.
Our Edupreneurs strongly believe that the Wheel of Innovation in Education drives the growth and learning towards the Level Next providing them stimulating environment & catalyzing positive transformation.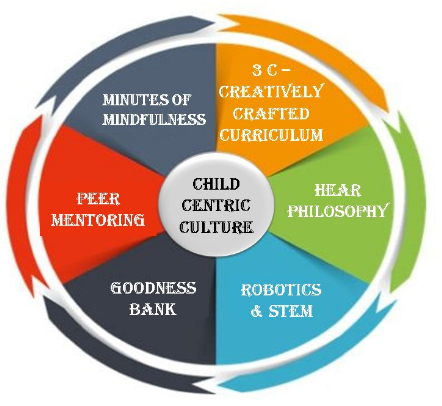 Child Friendly Practices:
"Learning is more than absorbing facts, it is acquiring Understanding,
Teaching is more than imparting Knowledge; it is imparting Change."
We at St. Joseph's play our masterstroke by stimulating array of optimistic & vigorous sensations through our strategic practices. Our 'Child Friendly Practices' like- Light Channeling, Personal Care & Attention, PEERFIT, Why Hide When You Can Seek Practice, Educonclave & Educarnival are a break-through from the mundane teaching practices, creating ripples of change & are initiated with a step towards accomplishing the vision and mission of the school.